By Kianga Lucas of Native American Roots
Thank you, Kianga, for this wonderful history of Frankey Anderson's death! I came across this case in the Granville County, North Carolina, court records around 1982, but lacked the knowledge of Granville's mixed-ethnic people to properly analyze it. I'm excited to learn the full circumstances of Frankey's death! —Vikki Bynum
Introduction
North Carolina did not require deaths to be registered with the state until 1912. Therefore in earlier times, it is usually difficult to learn about the circumstances of one's death. This is why the preserved coroner's reports and inquests from the 1700's and 1800's found in the Granville County archives present an opportunity to learn how suspicious deaths were investigated. The discussion that follows, examines the records regarding a girl named Frankey Anderson.
Coroner's Inquest
Prior to modern medical examiners, North Carolina used a coroner's inquest to find facts about suspicious deaths. A coroner's inquest was not a criminal investigation to find fault for a death. Coroners were elected officials who took an oath of office. And if deemed necessary, the coroner would convene a jury to investigate a death. The jury were simply members of the public (in the context of antebellum North Carolina the jury were adult white men) who had absolutely no formal medical background. For this reason, it should come as no surprise that using non medical experts to determine a manner of death would lead to many wrong conclusions.
Frankey Anderson's Death
On 17 September 1824, Granville County coroner Hardy Harris called an inquest into the death of Frankey Anderson. We learn from the following documents that Frankey Anderson suffered severe head and chest pain that resulted in vomiting and rendered her speechless. These symptoms continued over 2 days until she died on September 10th, a full week before the inquest. Frankey's body was disinterred to allow the jury to examine her body. Due to the rapid state of decomposition, an examination of her body showed no visible signs of trauma that would explain her rapid decline in health that lead to her death. Shockingly, the jury came to the conclusion that Frankey Anderson was violently beaten by her grandmother Sally Anderson which caused her death. Though due to a lack of evidence, there was no possible way to pursue any criminal charges.
In modern times, medical professionals and even many in the public would immediately recognize Frankey Anderson's symptoms as symptoms of a stroke. However in 1824, the jury that determined Frankey's manner of death were not trained in medicine and came to the wrong conclusion. There are also other factors to consider.
It is pertinent to state that every juror was a white male resident of Granville County. Their names read as follows:
Thomas B. Littlejohn – Foreman
Joseph B. Littlejohn
Thos. P. Jones
Stephen K. Sneed
Thos. J. Hicks
Rhoderick Herndon
Amos Garrett
W.S. McClanahan
Robert Kyle
Absalom Yancey
Thomas Hunt (of I)
William M. Sneed
Frankey Anderson on the other hand was a free girl of color of the Nansemond tribe. The inquest did not identify her parents, but did identify Frankey as the granddaughter of George Anderson and Sally Anderson. George Anderson (born circa 1776) and his wife Sally ("Sarah") Evans (born circa 1774) married on 14 Oct 1800 in Granville County. They resided in the Oxford/Fishing Creek area, surrounded by other Nansemond and Native families. George Anderson descends from the Anderson family which I previously discussed here and he also descends from the Nansemond Bass family which you can read more about here. His wife Sally Evans descends from Jane Gibson whose genealogy I discussed here.
The witnesses who were called by the jury to provide testimony about Frankey Anderson's death were almost all Native American/free people of color who were relatives of Frankey and her grandparents. Therefore the inquest involved all white men questioning men and women (including minors) of color.
The list of witnesses reads as follows. I have also included additional biographical information to help locate these individuals in our family tree:
James Day – James Day (born circa 1800) was the son of Jesse Day (1761-1837) and Priscilla ("Prissy") Bass (born circa 1764)
Thomas Anderson – Thomas Anderson (1790-before 1837) was the son of Lewis Anderson Jr. (1743-1805) and Winnie Bass (1752-1809). He was married to Sally Day
Peggy Day – Peggy Day (born circa 1809) born to unknown parentage but is likely a close family member of James Day. She was a minor in 1824.
Elizabeth ("Grinaway") Greenway – Elizabeth Greenway (born circa 1810) was the daughter of unidentified parents. She married Moses Curtis on 31 May 1832. She was a minor in 1824.
Patsy ("Grinaway") Greenway – Patsy Greenway – I have not been able to locate any records on her in the archives. I presume she is a close relative of Elizabeth Greenway.
Sally Day wife of James – Sally McGehee (born circa 1807) born to unidentified parents. She married James Day on 15 March 1824 and was only married a few months when she was called as a witness.
Priscilla Day – Priscilla ("Prissy") Bass (born circa 1764) was the daughter of Benjamin Bass (born circa 1722) and Mary Bass (born circa 1722). She was the wife of Jesse Day (1761-1837).
Glathey Anderson – Glathey Anderson (born circa 1810) was the daughter of Abel Anderson (1772-1817) and Susannah Evans ( born circa 1784). Glathey's mother Susannah Evans married second to a Pettiford (one of the Reuben Pettifords) and as a result Glathey was sometimes known by her stepfather's surname Pettiford. She went on to marry Cuffy Mayo (1800-1896) on 29 Dec 1828 and was inexplicably called a Hawkins in the marriage record. Glathey was a minor in 1824.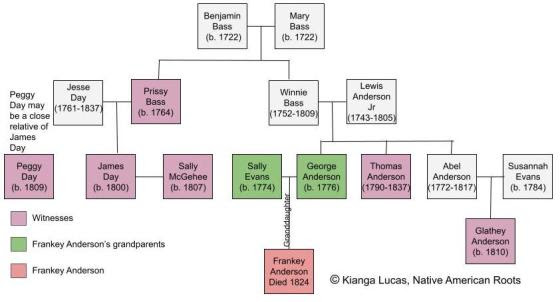 A Family History of Doctoring
Finally, it is important to provide context for why Frankey Anderson's grandmother attempted to intervene in her rapidly declining health. As stated earlier, Frankey Anderson suffered what appeared to be a stroke. I'm unable to provide a certified medical causation for why a child suffered such a devastating death but I do have some thoughts on this. Frankey Anderson descended from generations of endogamous Bass and Anderson ancestors, including some first cousin marriages. Genetic disorders (that could cause strokes in children) may come as a result of this consanguinity. To see a child suffering from such traumatic symptoms must have been so frightening to her family and quick action was needed to save her life. This is where her grandmother Sally (Evans) Anderson stepped in.
Sally (Evans) Anderson was the great-granddaughter of Jane Gibson the younger and the great-great granddaughter of Jane Gibson the elder. Both Jane Gibsons (mother and daughter) were noted for their doctoring skills in the sworn deposition of Robert Wills in 1791. Specifically, Jane Gibson the elder healed Robert "King" Carter of the Shirley Plantation. I have wondered if that gift was taught and passed down to later generations. I don't have any other documentation to support Sally (Evans) Anderson practicing doctoring, but I do believe that her attempt to intervene in Frankey Anderson's dire condition is supporting proof. Unfortunately she was not successful in saving her granddaughter's life.
It is noteworthy that Sally (Evans) Anderson's descendants pursued formal education to become medical doctors. Her twice over 3rd great-grandson Roger Cole Anderson II (1904-1950) was a medical doctor. After graduating from Mary Potter High School in Granville County and receiving a B.S. from Virginia Union University, Roger Anderson earned a medical degree at Meharry Medical College in Nashville, TN – the first medical school in the South dedicated to educating African Americans and other people of color who were not allowed into segregated white schools. He was then employed with the hospital affiliated with the college, George W. Hubbard hospital where in the segregated South, Dr. Anderson served some of the most impoverished and underrepresented communities.
Working on this research also allowed me to see the significance of my 2nd great-grandfather, James E Howell (1840-1912), running for the position of Granville County's coroner in 1882. His nomination was later revoked and a white man took his place on the ballot. James Howell was also a descendant of the Evans family and I wonder if he was taught the family's history of doctoring. James Howell's grandson (my grand uncle) Edward Gaylord Howell (1898-1971), just like his relative Roger Cole Anderson, pursued a formal education to become a physician. Dr. Howell received his B.S. from Yale University, his medical degree from Howard University and opened his own private practice in New Brunswick, NJ.
I am incredibly proud that Dr. Anderson and Dr. Howell pursued groundbreaking careers in medicine and followed their dreams to heal people.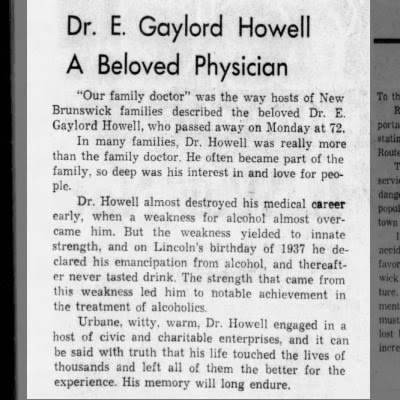 I hope this blogpost will inspire you to learn more about how the history of medicine impacted your family history. I want to thank my friend Emerson Foster for helping me locate the Granville County Coroner's Inquest folder and to genealogist Deloris Williams for helping me transcribe Frankey Anderson's record.
Kianga Lucas
Categories: Uncategorized